What is a Website Cookie?



by Mayur Vora
A website cookie, also known as an HTTP cookie or browser cookie, is a small piece of data that a website stores on the user's web browser. Cookies are commonly used to enhance the user's browsing experience, remember user preferences, and provide personalised content and services.
Data security is a primary concern for users when accessing the internet. Often, users are reluctant to share their personal information on websites due to fears of data leaks or misuse.
To address these concerns, the EU has established guidelines to safeguard user data and ensure its security on the web. These guidelines advocate for data protection and require websites to seek user consent before storing their information.
With the Odoo website Cookie Consent module, you can request permission from users to store their details, adhering to the GDPR law. The module includes a cookie consent banner that seeks user authorisation before collecting any information.
Here are some advantages of website cookies:
1. Session Management
Cookies are often used to maintain session information, allowing websites to keep track of a user's activities and interactions during a single browsing session. This is useful for maintaining login sessions and managing shopping carts on e-commerce websites.
2. Personalisation
Cookies can store user preferences and settings, enabling websites to offer personalised content, recommendations, and advertisements based on the user's previous interactions and interests.
3. Enhanced User Experience
By remembering user preferences and settings, cookies contribute to a smoother and more seamless user experience, reducing the need for users to repeatedly provide the same information.
4. Tracking and Analytics
Cookies can be used to track user behavior and gather analytics data. Website owners can analyse this data to understand user demographics, interests, and behavior, which helps in optimising the website's performance and content.
5. Advertising and Marketing
Cookies play a significant role in targeted advertising and marketing. They allow advertisers to serve relevant ads to specific users based on their browsing history and interests.
6. Website Performance
Cookies can be used to distribute the website's load across multiple servers, improving performance and reducing server response times for users.
7. Security
Some cookies are used for security purposes, such as preventing cross-site request forgery (CSRF) attacks and verifying user authenticity during login sessions. 
8. Shopping Cart Management
In e-commerce websites, cookies are commonly used to store information about items added to the shopping cart, ensuring that the items are retained during the shopping process.
It's important to note that while cookies offer various benefits, there are also concerns related to privacy and data security. Users should be aware of the type of information stored in cookies and have the option to manage and control cookie settings through their web browsers. To address these concerns, many countries have implemented data protection laws, such as the European Union's General Data Protection Regulation (GDPR), which regulate the use of cookies and require user consent for non-essential cookies.
Cookies are small text files that websites send to your device during your visit. They are stored by your browser and contain information like login data, location, and language. Two main types of cookies exist:
Essential cookies, which are necessary for the website to function properly;

Non-essential or optional cookies, which are used to analyse your behavior or display advertisements.
Complying with data protection laws like GDPR necessitates informing users about data collection, methods, and purposes. Cookie bars are a user-friendly and transparent way to fulfill this requirement. Displayed on a user's first visit, they inform users about the website's use of cookies and allow them to decide on storing non-essential cookies on their device.

To activate the cookies bar on your Odoo website, navigate to Website → Configuration and enable "Cookies Bar" in the Privacy section.
Customise the appearance of your cookies bar and edit the content of the associated Cookie Policy page to suit your preferences.


To customise the appearance of the cookies bar, click on "Edit" and choose the "Cookies Bar" building block from the Invisible Elements section at the bottom of the panel. You can then personalise it using the available options in the "Customise" tab within the edit panel. There are three layouts to choose from:
Discrete: thin bar
Classic: banner
Popup: you can change the popup's position to the Top, Middle, or Bottom of the screen.
You can also:
modify the s

ize

of the cookies bar;
enable backdrop to gray out the page in the background when the cookies bar is displayed on the screen;
further customise the appearance of the cookies bar using Block and/or Column customisation options, which are available after clicking anywhere in the building block.
To edit the contents of the cookies bar (i.e. the consent message), click directly on the building block.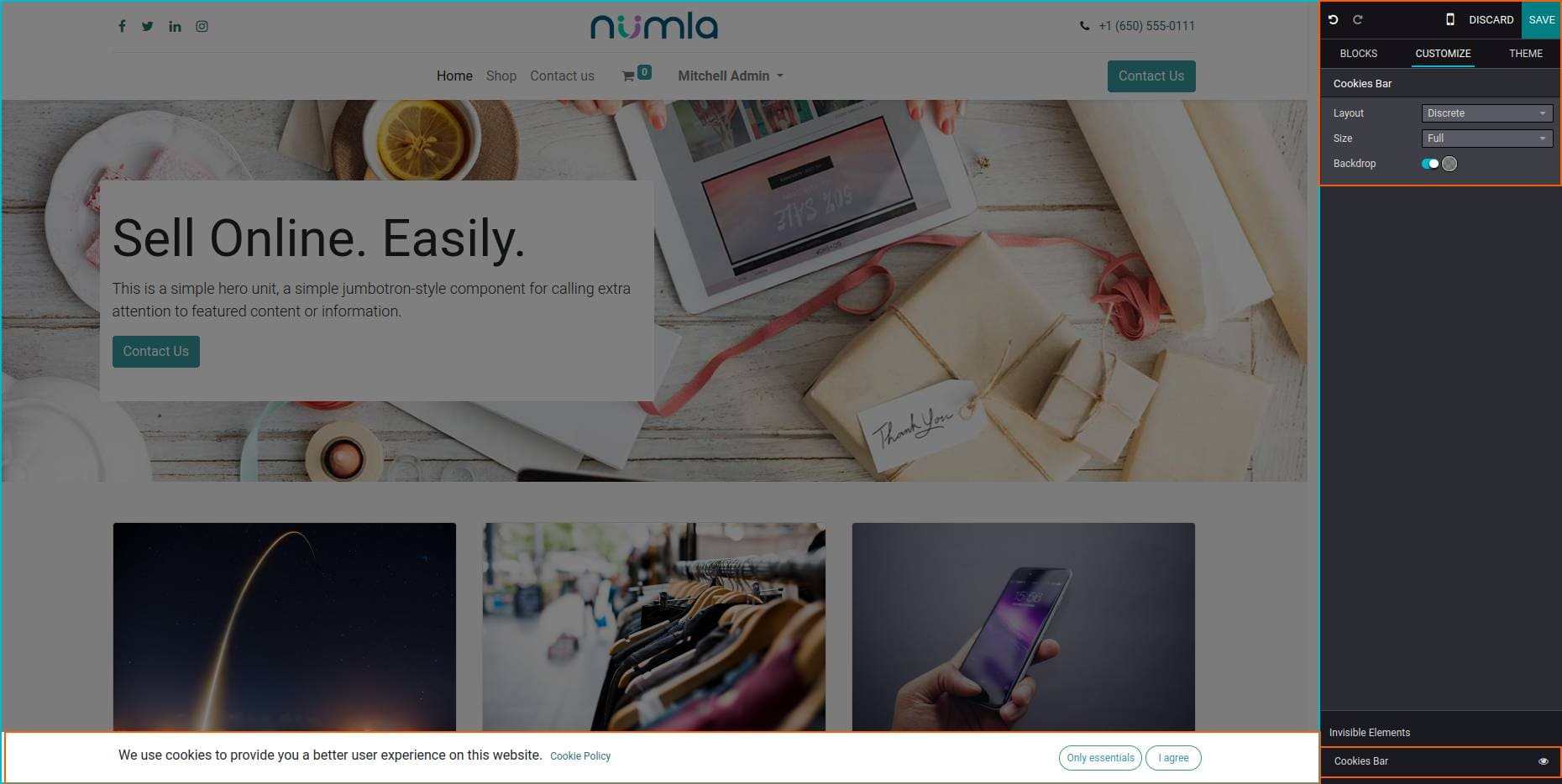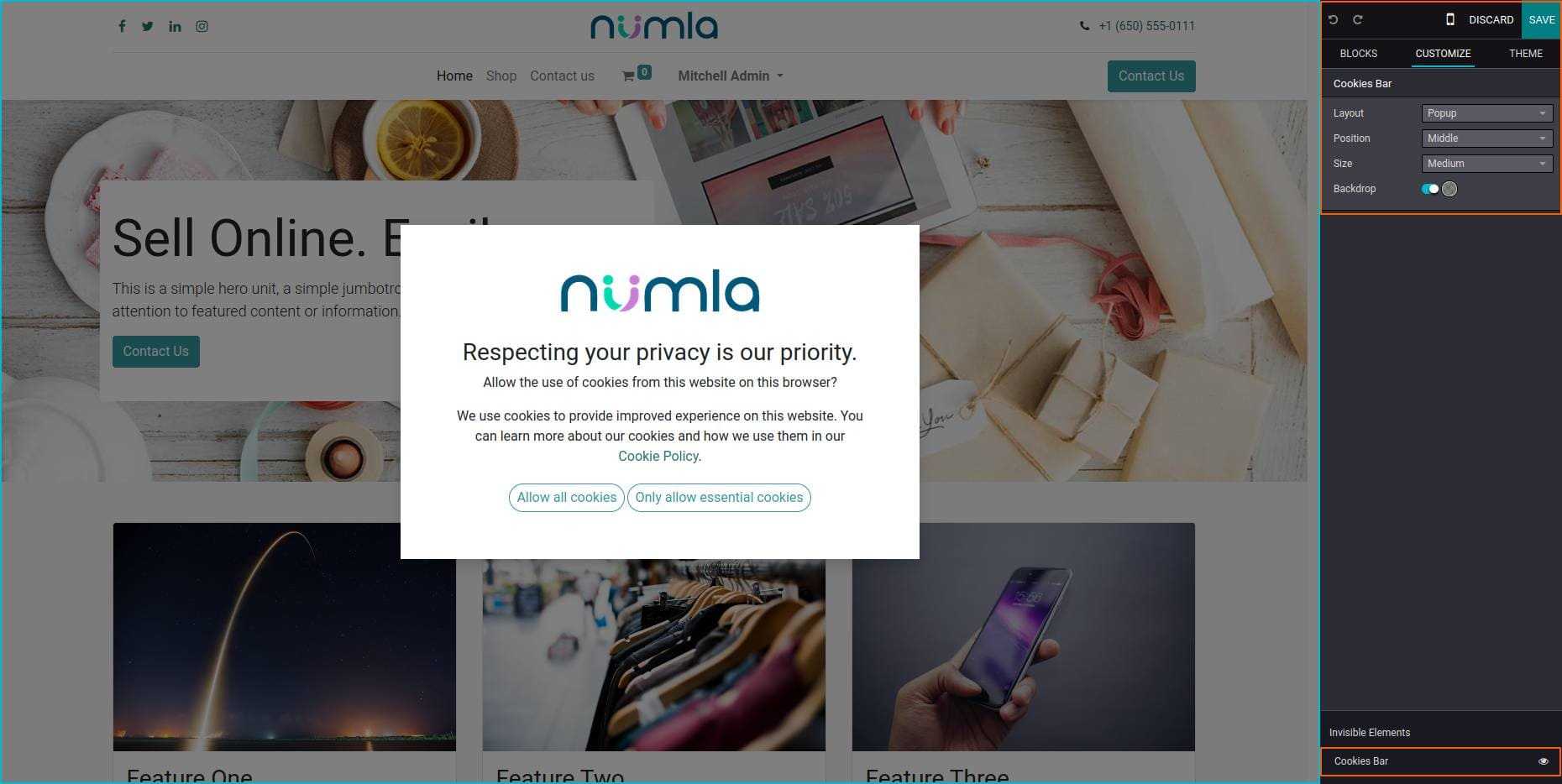 Enabling the cookies bar for your website automatically generates the Cookie Policy page (/cookie-policy) in Odoo, containing a list of essential and optional cookies. You can access this page by clicking the Cookie Policy hyperlink in the cookies bar or by navigating to Website -> Site -> Pages.
If necessary, you can customise the content of the Cookie Policy page to align with your website's specific features and characteristics.