Experience the seamless employee leave management

Numla HR streamlines the process of tracking and managing leave requests and approvals, saving time and reducing administrative headaches for HR teams.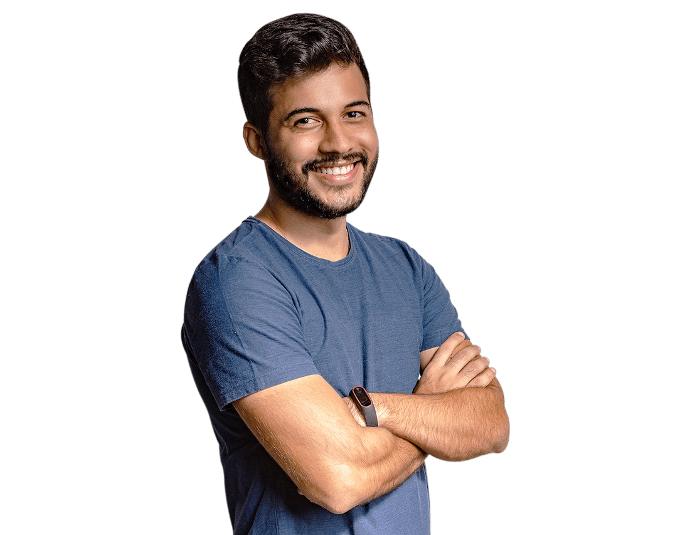 Make your leave management hassle-free

With our Time Off App, you can define different types of leaves and their eligibility rules, as well as set up approval policies for each type of leave. Employees can then use the app to request time off, and all the information is automatically fed into payroll.

Create new time off

To create a new time-off request, you can either use the 'New Time Off' option from the dashboard or click on the corresponding date. In the new time off window, you can select leave type, and Duration, and provide a Description of the request.
Select Time Off Type
Enter the dates
Provide a description for the time-off request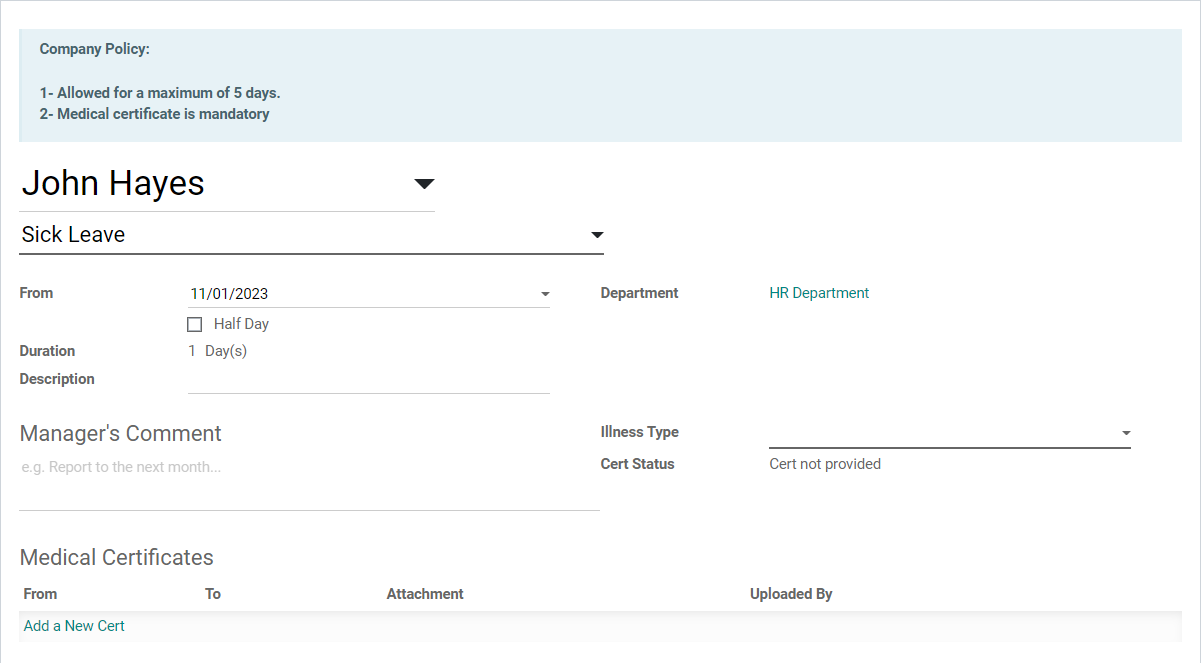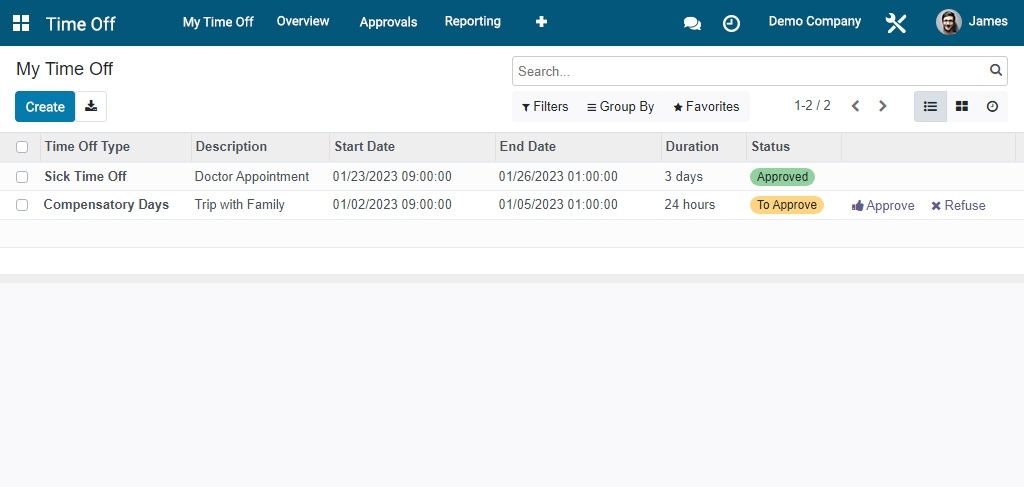 View all your leave requests

View all of your time-off requests, with details such as description, start and end dates, duration, and current status. You can choose to view this information in a list, kanban, or activity view. Managers also have the ability to approve or refuse time-off requests for their team members.

Request a leave allocation

There can be instances where you need time off for more days than you are entitled to. In such a case, you can request a leave allocation to your manager using the 'My Allocations' option.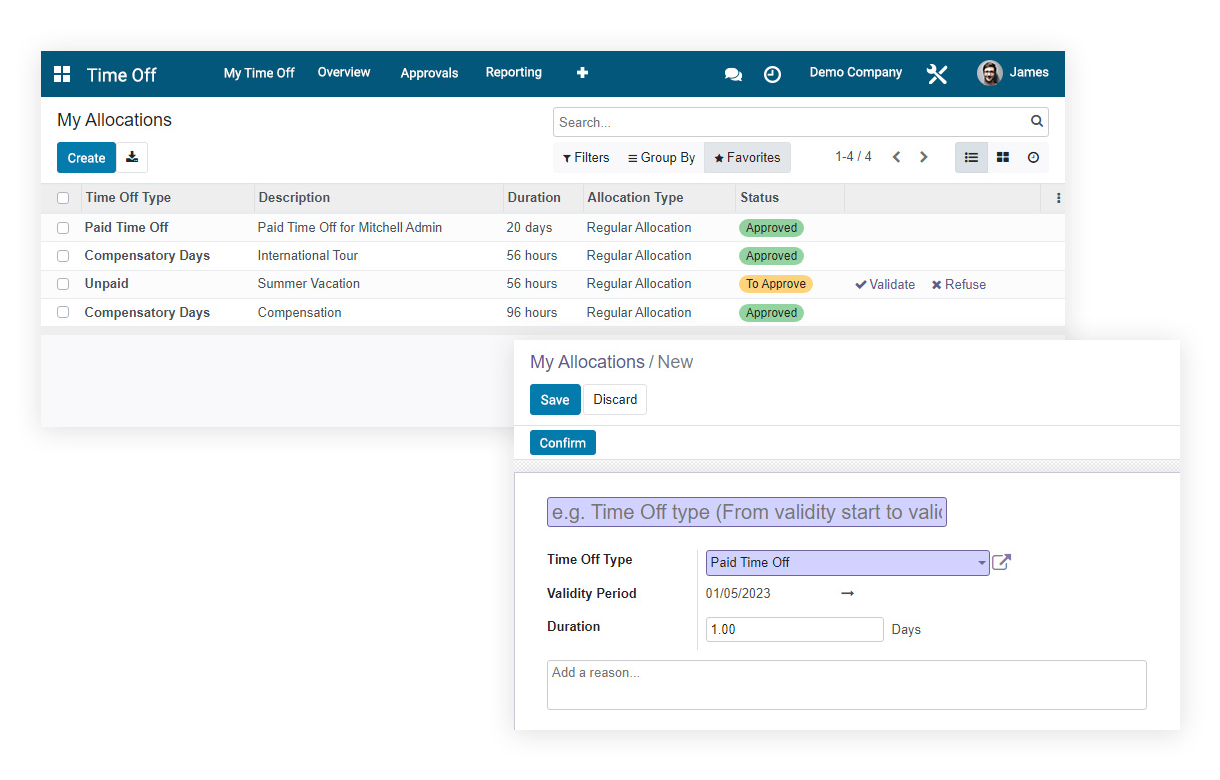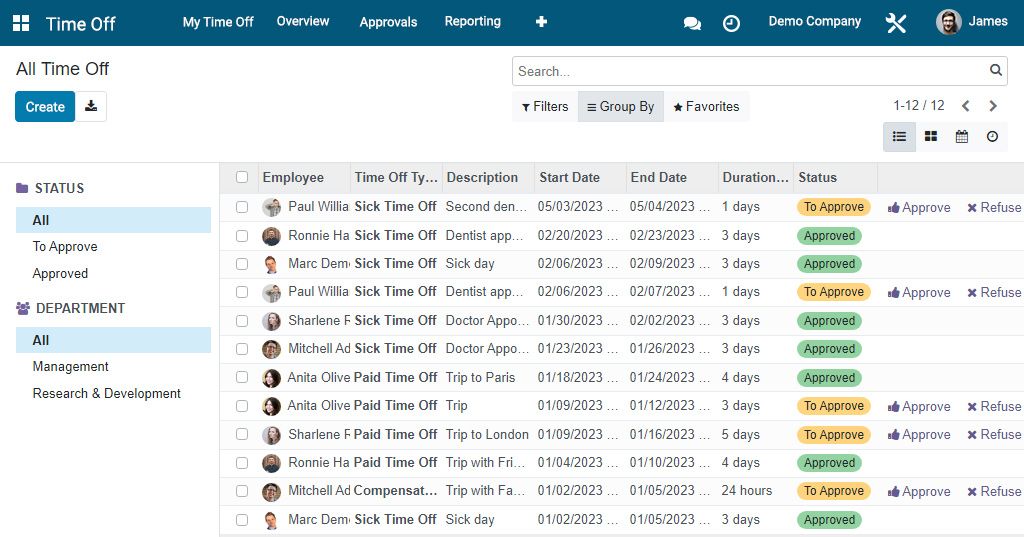 View leave approvals

As a manager, you have the ability to approve or refuse time-off requests for your team members. You can view and take action on both 'Time Off Requests' and 'Allocation Requests' from the Approvals menu. Multi-level approval can also be defined in the app.

Delegate a team

The app enables managers to delegate their teams to each other in their absence so that the delegated manager can take action on their team's time off requests. The manager can easily create a request to delegate their team to someone and the other person can either accept the request or refuse it.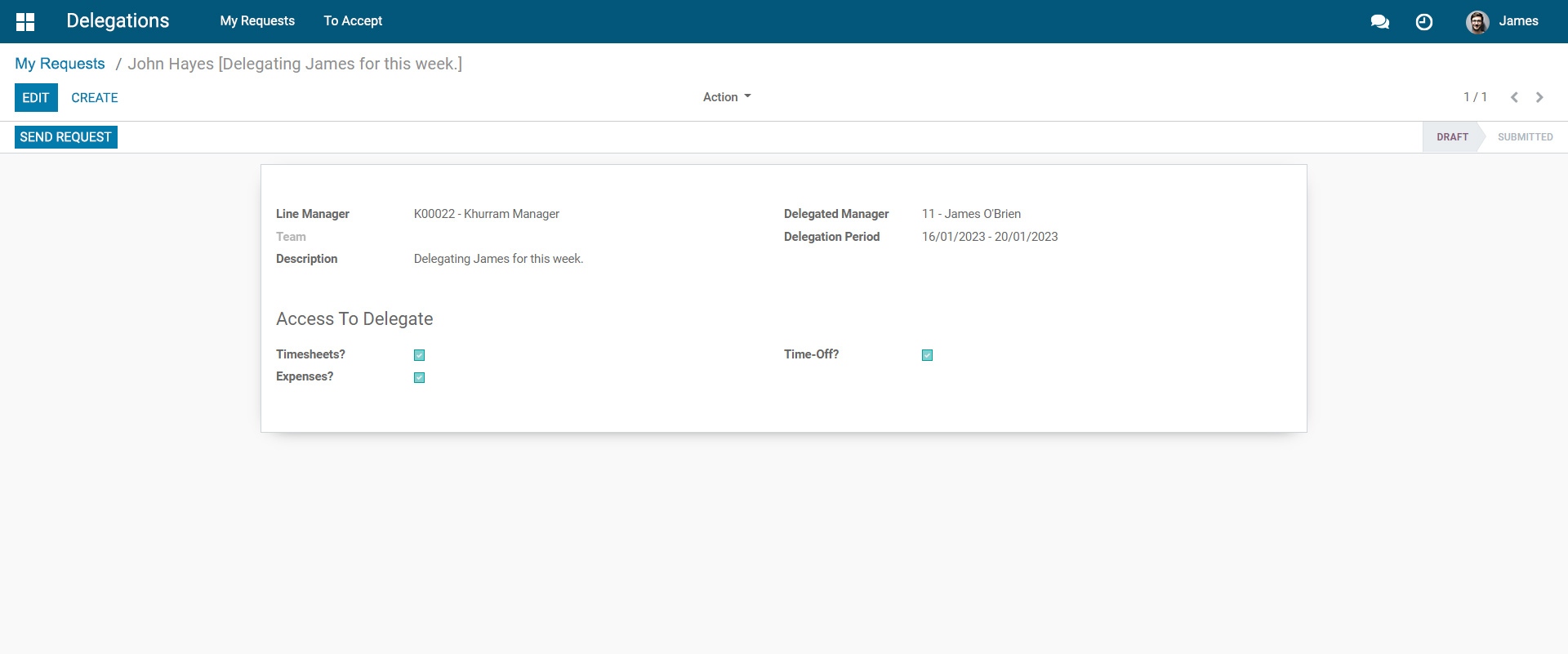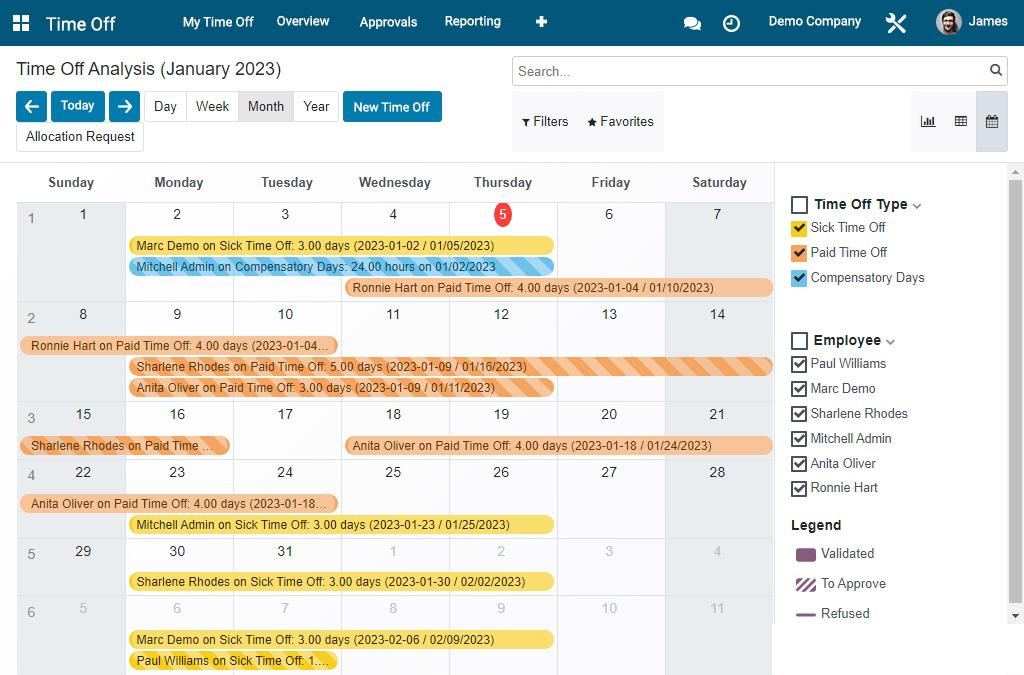 View comprehensive reports

Our app's reporting feature helps you analyse leave patterns within your organisation. View data on a daily, monthly, or yearly basis and use pivot, graphical, and calendar views.
Use configuration menu
Managers can configure time off types, and accrual plans and specify public holidays using the configuration menu. Let's take a look at what you can configure:
Time Off Types

Create different types of time off, each with different rules, conditions, and restrictions on the number of days. Simply navigate to the Configuration menu and select the Time Off Types. You will see all of the configured types, along with their Display Names. Create a new Time Off Type, by simply entering the necessary details in the provided fields.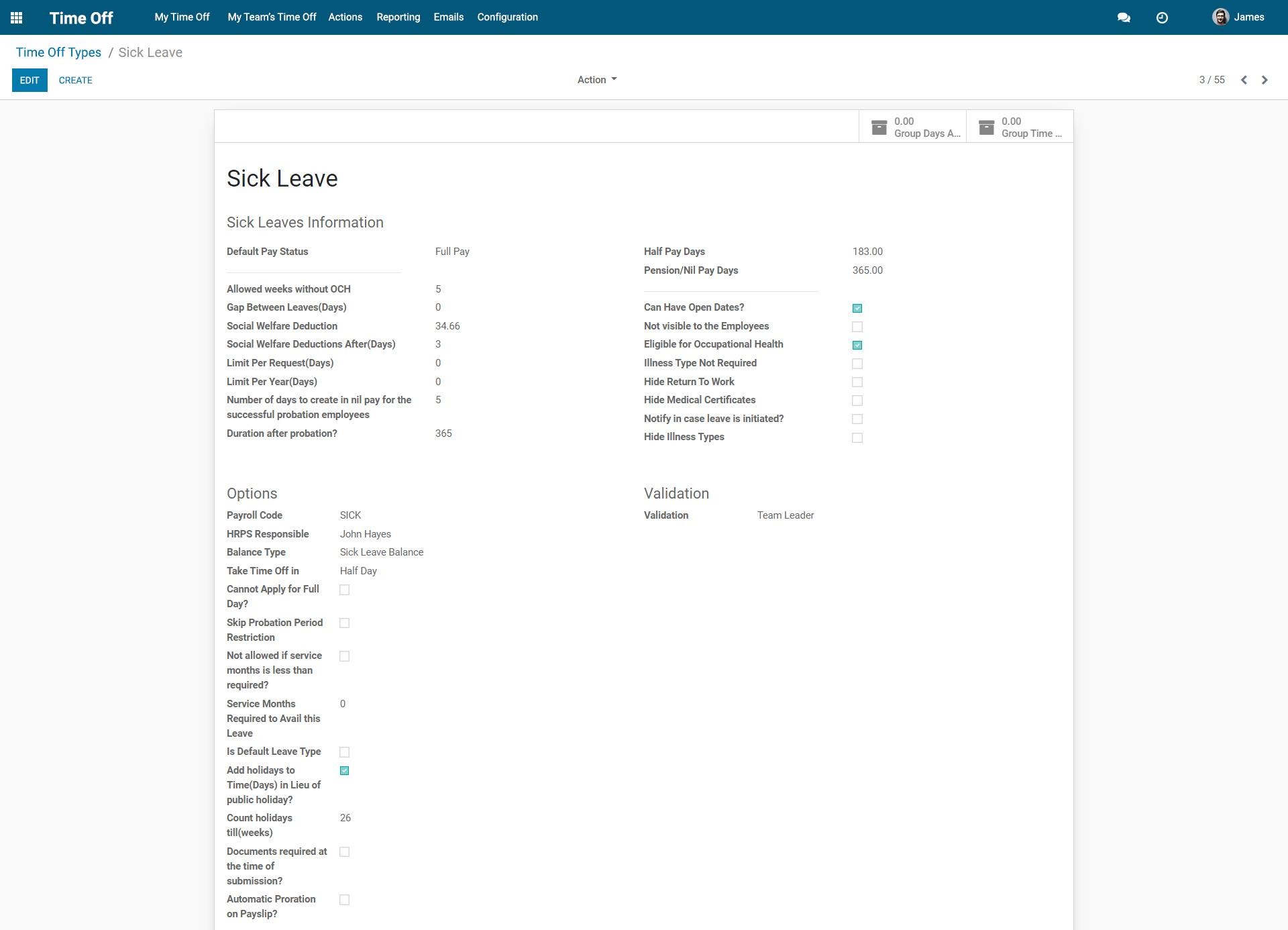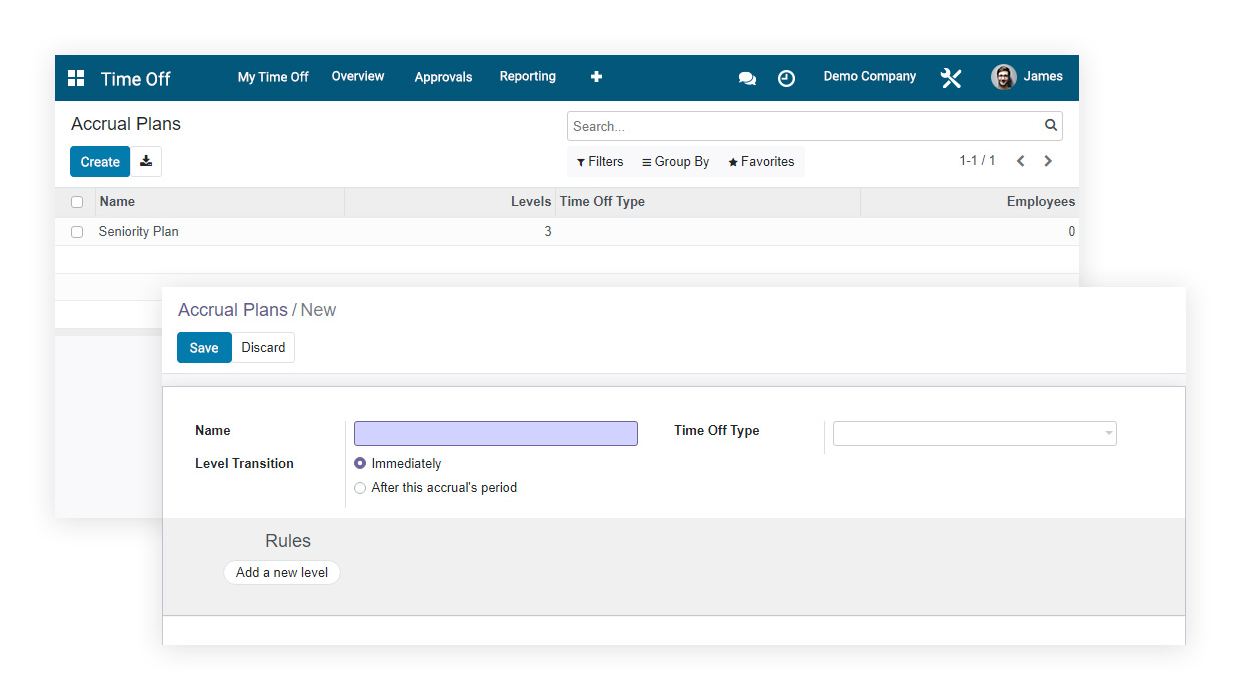 Accrual Plans

Set up accrual plans that automatically allocate leaves based on certain rules. The Accrual Plans window displays a list of all the accrual plans you have previously created. You can also create a new accrual plan from this window.

Public Holidays

The app allows you to easily keep track of public holidays. You can configure these holidays by entering details such as the name, the company it applies to, the start and end dates, the working hours, and the work entry type.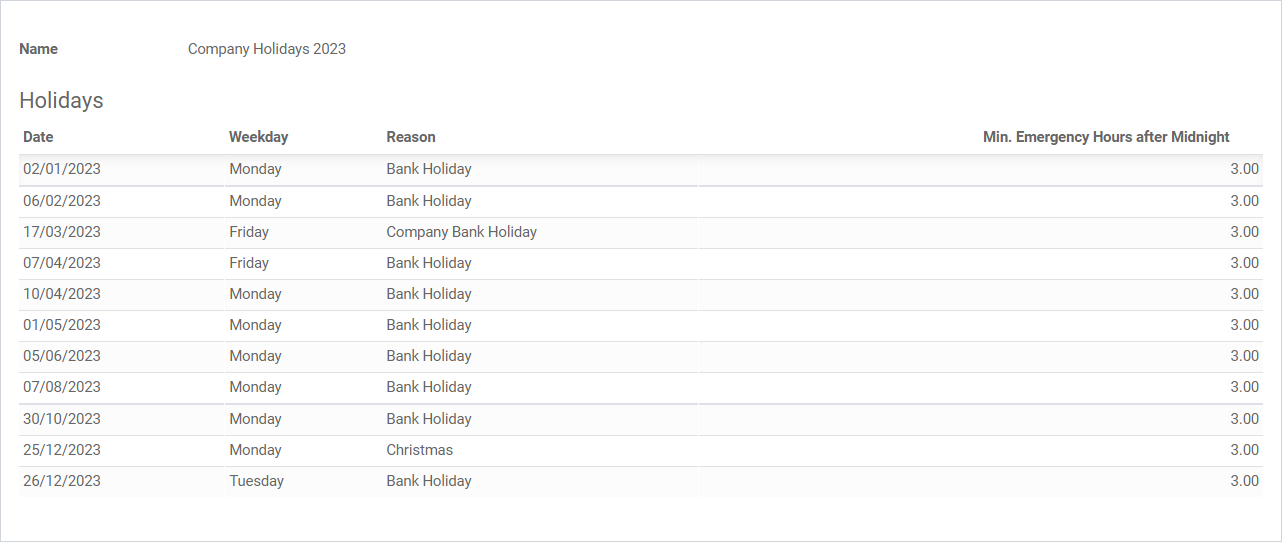 Make time off requests on the go using a mobile device
Employees can use our mobile app to apply for different types of leaves. In this app, the employees also get a dashboard, which allows them to see annual leave entitlement, carry forward days, leaves already taken, submitted for approval, and the remaining balance.

Discover the Key Benefits
Improve the efficiency of your time off approval process
Join the ranks of our happy users

Get Your Demo